Kranz Wolfe Associates ("we", "our", or "us") is committed to protecting your privacy. This Privacy Policy explains how your personal information is collected, used, and disclosed by Kranz Wolfe Associates.
This Privacy Policy applies to our website, www.kranzwolfe.com. By accessing our website, you signify that you have read, understood, and agree to our collection, storage, use and disclosure of your personal information as described in this Privacy Policy.
What Information Do We Collect?
We collect information from you when you fill in our contact us form or subscribe to our newsletter.
Name
Phone Numbers
Email Addresses
How Do We Use The Information We Collect?
Any of the information we collect from you may be used in one of the following ways:
To improve customer service (your information helps us to more effectively respond to your customer service requests and support needs)
To send seasonal update emails
How Do We Use Your Email Address?
By submitting your email address on our newsletter subscription form, you agree to receiving emails from us. You can cancel your participation in any of these email lists at any time by clicking on the opt-out link or other unsubscribe option that is included in the respective email. 
Could My Information Be Transferred To Other Countries?
Our offices are in Belgium, Turkey and Malaysia. Information collected via our website, through direct interactions with you, may be transferred from time to time to our offices or personnel located across our offices. By using any of the above, you voluntarily consent to the trans-border transfer and hosting of such information.
How Long Do We Keep Your Information?
We keep your information only so long as we neet it to provide service to you and fulfill the purposed described in this policy. When we no longer need to use your information, your data will be removed. Alternatively, you have the right to request your information to be removed by contacting us. 
Links To Other Websites
Our website may contain links to other websites not operated or controlled by us. Your browsing and interaction on other websites is subject to those website's own rules and policies. Such third parties may use their own cookies or other methods to collect information from you.
Cookies
We use "Cookies" to identify the areas of our website that you have visited. 
Analytics
We use third-party analytics tools to track traffic and usage information of this website.
Contact Us
Kranz Wolfe Associates welcomes your feedback regarding this Privacy Policy. If you have any questions about this policy, please contact us by email at info.be@kranzwolfe.com
Your team needs support to analyze their planning puzzle? We are ready to serve!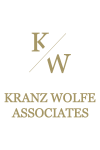 PRODUCTS SUPPORTED & SERVICES