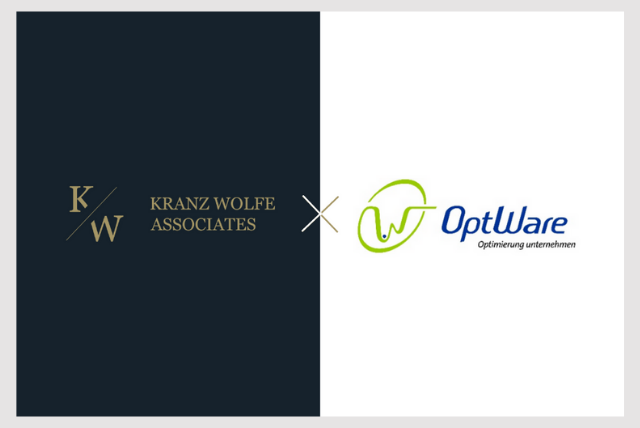 OptWare GmbH and Kranz Wolfe Associates BV have joined forces to create a strategic nonexclusive partnership to better serve the industry with optimized solutions for supply chain planning.
This new partnership will ultimately help both companies and especially their customers by offering best in class supply chain planning solutions supported by state-of-the-art optimisation expertise.
The international footprint of Kranz Wolfe Associates with the strong German basis of OptWare will allow an even better response to the fast-growing demand for expertise in supply chain and optimisation.
OptWare – founded in 1999 and located in Regensburg and Munich – is a specialist in transferring data science and modern optimization methods into company practice and processes. They create value for their customers with their optimisation approach which is based on their broad experience in the industry as well as their ongoing scientific research activities, e.g. hybridization of AI and optimisation, or quantum computing.
The roots of Kranz Wolfe Associates (KWA) go back to 2015. Since the foundation of the company the team is focussing on delivering supply chain software solutions to a wide range of manufacturing customers
"We are thrilled to partner with OptWare," stated Jo Wevers, MD of KWA, "This partnership will allow us to extend our supply chain expertise with profound know-how of optimisation techniques. Experienced and well-trained implementation resources are key for success in many supply chain optimisation projects. We are extremely happy to find with OptWare a partner that shares our vision to deliver value driven by know-how and experience. "